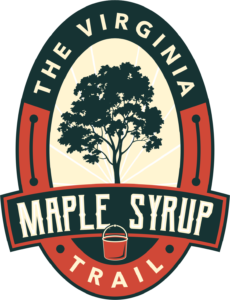 To further "tap" into what Highland County is most known for, we are happy to introduce the Virginia Maple Syrup Trail!  This passport program offers visitors the chance to visit seven sugar camps in Highland County throughout the year to experience each unique camp. Visitors are invited to call ahead to the sugar camps, schedule a visit for a tour, taste their syrup and get a stamp on their passport.  After all seven camps are visited, there will be a prize, but the real incentive is to have more one-on-one interaction with the farmers who run the camps.  Visitors can check out what happens on these farms and in Highland County year-round outside of the busy syrup-making season in late winter and early spring.  If you want to know where your food comes from, this is a great family outdoor opportunity.
*** Please note that the Virginia Maple Syrup Trail Passport Program is ending on March 31, 2024!  Passports must be received by March 31, 2024 to be honored.  No giveaways will be supplied after March 31, 2024.  Physical passports will not be distributed after December 31, 2023.
*** In order for visitors to complete their passports, the 7 participating sugar camps will be stamping passports for the first and last time at the 2024 Highland County Maple Festival.  During the festival, Bruce's Syrup & Candies will be located at 68 West Main Street in downtown Monterey for stamping of passports.  Get your passport before December 31, 2023 for your chance to get your passport completed by March 31, 2024!
Visit www.virginiamaplesyrup.com for complete details.  Enjoy!
The Virginia Maple Syrup Trail brought to you by the Highland County Chamber of Commerce, the Highland County Tourism Council and participating sugar camps.
*** Calling All Interested in Producing Maple and Other Tree Syrups! ***
Virginia Tech is trying to locate all producers of maple and other tree syrups, no matter the size or scale of their production (from hobbyists to full-scale commercial producers) in the region. One goal of this project supported by VDACS is to start a syrup producers association to help those interested in maple and other syrups like yourself find assistance, equipment, and markets for your syrup. If you want to learn more about producing syrups from maple and other tree species and the new association, please contact Guinevere Unterbrink at guinevereu@vt.edu.