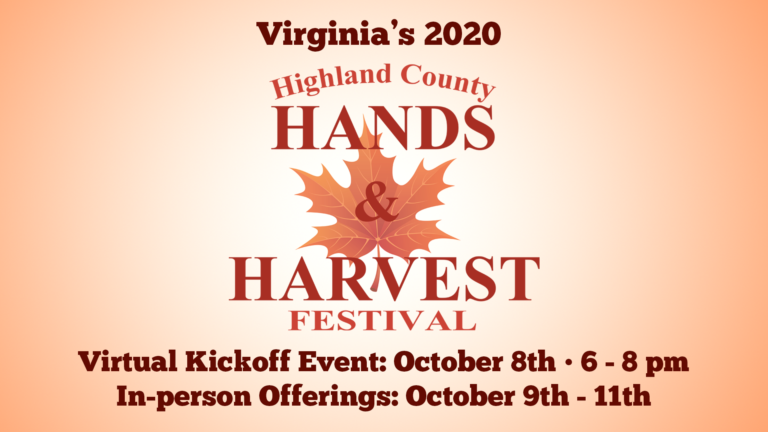 Thank you to everyone who made the 2020 Hands & Harvest Festival a success! 
Our fall festival is held annually during the second full weekend in October, so check back in 2021 for details, set for October 8 - 10, 2021.
In the meantime, you can re-watch our virtual event by clicking on the 2020 Virtual Hands & Harvest Festival Link below or learn more about the 2020 in-person offerings throughout the remainder of the page.
2020 Virtual Hands & Harvest Festival Link
2020:
Celebrate the beauty and bounty of fall with the annual Hands & Harvest Festival in Highland County, Virginia! In 2020, there will be a hybrid event of both virtual and in-person offerings from Thursday, October 8th through Sunday, October 11th.
On Thursday, October 8th from 6 to 8 pm, Highland County has teamed up with online event platform BoothCentral to introduce the first ever Virtual Hands & Harvest Festival. No matter where you are located in the world, you can log in to discover, browse and shop with participating festival organizations and businesses. There will be a video stream highlighting the many aspects of the festival, as well as online vendor "booths" where you can directly interact at your own pace. The video stream will showcase exclusive tours and special moments with the unique people and destinations of this rural, mountain community. Tune in any time between 6 and 8 pm, relax and learn all about what Highland County has to offer. There is no need to preregister, although you can click the "Guest Registration" button beforehand if you would like to receive an email reminder on the day of the event.  All you need is an internet connection and email address when the event goes live on Thursday, October 8th at the following link:
2020 Virtual Hands & Harvest Festival Link
In-person offerings will take place beginning Friday, October 9th through Sunday, October 11th throughout the entire county.  Experience three days of activities, entertainment and fall fun!  Take time to explore the back roads as the leaves change on one of Highland County's scenic drives using the brochures of Sweet Rides or Scenic Driving Tours.  See how many colorful barn quilts you can spot with the completely revised Barn Quilt Trail.  Need somewhere to stay? Check out the following Lodging Options  For a full list of activities and times, scroll down below.  Check back frequently as the list below gets updated often.  Enjoy!
For both your safety and for the safety of others, please adhere to current CDC and Virginia Department of Health guidelines regarding the coronavirus. To help prevent the spread of COVID-19, please observe social distancing of at least six feet from other visitors, wear a face covering when indoors or when you are in close proximity to others outdoors, and wash your hands frequently with soap and water for at least 20 seconds or apply hand sanitizer with at least 60% alcohol. Please stay home if you are sick, if you have signs or symptoms of COVID-19, or if you have been in close contact with someone who has had COVID-19. Prevention tips can be found at https://www.vdh.virginia.gov/coronavirus/prevention-tips/.
The fall foliage is looking beautiful this year!  Searching for a leaf report? Check out the updated blog and photos of https://highlandcountyva.blog/leaf-report-early-fall-2020/ for more!
Need more information during the festival or want to buy some Highland County merchandise? Check out the Visitor Center Information Booth at the outdoor pavilion at The Highland Center at 61 Highland Center Drive in Monterey during the following hours:
Friday: 3 - 6 pm
Saturday: 9 am - 5 pm
Sunday: 11 am - 3 pm
Flyers with a map, full listing details and times will be available at the Visitor Center Information Booth at The Highland Center, as well as at convenience stores and local businesses. We've also created a daily schedule that you can print at home for your travels:
2020 Hands & Harvest Events
Lynda Smith and 7th Street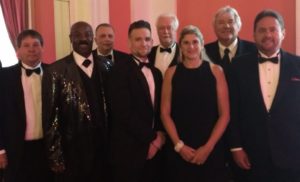 Saturday: Maple Tap Room starts at 5 pm with music from Karl Behr & Double Derringer from 5 - 6:30 pm, Lynda Smith and 7th Street concert begins at 7 pm
The Highland Center Outside Front Lawn at 61 Highland Center Drive off of Spruce Street in Monterey (In case of inclement weather, both the Maple Tap Room and concert will be held in the auditorium)
3rd Annual Memorial Concert in honor of Mary Hille McCoy and Elizabeth P. McCoy.
All activities are free-will donation!
Sponsored by The Charles Pinckney Jones Charitable Trust and The Highland Center, a catalyst for economic and cultural development.
Lynda Smith Greve, lead singer in the band 7th Street, grew up in a musical family. At the age of 2, she first sang on stage at Donk's Theater, "Virginia's Li'l Ole Opry." She's been singing there ever since.  7th Street is an eight-piece party band that highlights Motown, disco, beach and classic rock.  Get ready for a fun, exciting show for all ages!  Before and during the concert, enjoy the Maple Tap Room, featuring craft beer from Brothers Craft Brewery, cider from Big Fish Cider, wine from Rock Roadhouse Winery, and domestic beer.  Listen to the tunes of Karl Behr & Double Derringer from 5 - 6:30 pm.
Blackthorn Estates Nursery 
Will be set up at Back Creek Farms at 7781 Upper Back Creek Road
Friday: 12 – 5 pm  •  Saturday:  9 am – 4 pm
Blackthorn Estates Nursery WV grows and propagates Lavender and also produces Christmas trees in Pendleton County, WV.  They offer a variety of value-added lavender products and evergreen wreaths. They are offering pre-orders on our beautiful Evergreen Wreaths. In addition to placing online orders that will be shipped to your home, you may arrange to pick up your products in Monterey at the time of the Virtual Hands and Harvest Event. Simply email info@blackthornlavender.com to arrange your local delivery.
The Church at the Old Oak
3898 Meadowdale Road
Friday: 3 – 6 pm  •  Saturday: 9 am – 5 pm  •  Sunday: 12 – 5 pm 
This beautifully renovated church will be hosting vendors selling jewelry, baked goods, hand sewn, crocheted and knitted items, antiques and uniques, and framed photography.
Ginseng Mountain Store and Farm
6359 Potomac River Road
Saturday: 12 – 5 pm  •  Sunday: 12 – 5 pm Visit a new-time country store in a 100 year-old building. They offer their own grass-fed and finished lamb & beef and sheepskins from their farm. Also local crafts, honey, syrup and much more. Please wear mask and no more than 4-6 customers in the store at one time.  They also offer lodging!
Handmade in Highland
Monterey Presbyterian Church at 50 Spruce Street in Monterey
Friday: 3 – 6 pm  •  Saturday: 10 am – 4 pm This annual art & food marketplace is a fundraiser for Monterey Presbyterian Church.  There will be arts & crafts for sale at the outdoor church pavilion both days.  Pick up maple BBQ chicken halves on Friday from 3 – 6 pm.
Highland Barn Quilts
806 Meadowdale Road
Saturday: 10 am – 4 pm 
Visit the studio where many of Highland County's Barn Quilts are made with local artist Margie Boesch!  Check out these unique quilt designs on wood that are displayed on barns, homes and other outbuildings.  Margie will show you the process and offer a glimpse at her latest designs!  Want to learn more about Highland County's Barn Quilt Trail?  Check this out!  https://highlandcounty.org/barn-quilt-trail/
Route 640 Treasures
Will be set up at The Church at the Old Oak at 3898 Meadowdale Road
Friday: 3 – 6 pm  •  Saturday: 9 am – 5 pm  •  Sunday: 12 – 5 pm
Route 640 Treasures offers a collection of vintage, antique, and unique items!
Sun & Spruce Soaps
Sun & Spruce Soaps are located in Roanoke, and they have a love for Highland County!  They make handmade soaps inspired by local hikes, mountains and smells of nature.  Learn more online on Thursday, October 8th during our virtual event!
Elegius Mini Equine Sanctuary
4661 Doe Hill Road in McDowell
Saturday: 1 – 5 pm  •  Sunday: 1 – 5 pm 
The Elegius Mini Equine Sanctuary is a non-profit organization caring for mini horses, donkeys, and mules in need of a safe home.  EMES is open to tours for individuals, families and small groups. As a non-profit we rely on the generous support of our patrons and are thankful for donations of any size. We are a 501c3 agency so donations are tax deductible as allow by the IRS.
Highland County Recreation Commission
It is the mission of the Highland County Recreation Commission to provide and promote recreational opportunities through development, implementation, and maintenance of facilities and programs for all.  They are currently hosting a gun raffle with $10 a ticket as a fundraiser now through October 16th.  For full details, email Executive Director Jessy Wilfong at director@highlandcountyrecreation.org.  Proceeds go to financially support all recreational activities the Commissions supports, including Basketball, Cheerleading, Co-ed Softball, Volleyball and Basketball Open Gym, March Madness Basketball Tournament, Mountain Mama, the County's Pool, Family Fun Nights at the Pool, Summer Kick Off Event and 5k Color Run.
Sounding Knob Fire Tower
On top of Jack Mountain (just east of Monterey) up a gravel drive up Sounding Knob Road just 1.3 miles south of its intersection with Rt. 250
Friday, Saturday and Sunday: Sunrise to sunset
Over 100 steps up the Sounding Knob Fire Tower will give you a lasting memory – and maybe even some wobbly legs! How many mountain ranges can you see? The tower was constructed in 1934 by the Civilian Conservation Corps, and then it was disassembled and removed from its original location on Sounding Knob in 2002. In 2017, it was restored by the generosity of Skip Jones and Steve Good. It now overlooks Monterey on top of Jack Mountain. Enjoy one of the best views in Virginia! The practice of social distancing is required, and please be sure to exit right when leaving Sounding Knob Road and entering Rt. 250. Vehicles with very low clearance may have difficulty with water breaks on Sounding Knob Road, but most vehicles have no issues.
Valley AeroSpace Team Rocket Launch
Launch is held at Jack Mountain Village, just 2.9 miles south on Rt. 220 from the Monterey intersection of Rt. 250 and Rt. 220. It is located on the eastern side of Rt. 220 at an approximate address of 3003 Jackson River Rd, Monterey, VA 24465.
Saturday: 11 am – 5 pm  •  Sunday: 11 am – 3 pm (CANCELLED SUNDAY DUE TO WEATHER)
The Valley AeroSpace Team (VAST) is a public rocketry club open to anyone interested in rockets and space!  Over the weekend, there will be multiple rocket launches of various sizes, from models only inches tall to some over 6 feet tall.  Any children who attend can launch a club rocket under the supervision of a VAST member and will receive their very own rocket kit!  If you're new to the hobby and have a rocket, bring it along and they'll even help you get it launched.
Take advantage of the new Virginia Maple Syrup Trail with participating sugar camps!  Get your passport stamped at some of the camps listed below.  Get all the details at https://highlandcounty.org/virginia-maple-syrup-trail/.
Back Creek Farms
7781 Upper Back Creek Road
Friday: 12 – 5 pm  •  Saturday: 9 am – 4 pm
Maple Syrup with a twist! In addition to making pure maple syrup, they have a variety of infusions and barrel-aged syrup. They produce hickory syrup, too! They also have gift sets, hot sauce and pancake mix. Additional vendors on site will include barn quilts, lavender and jewelry. On Saturday, they will be making apple butter in the morning and squeezing apple juice. Learn more about their unique maple infusions, as well as whiskey, rye and bourbon barrel-aged syrups.
Duff's Sugar House at Fair Lawn Farm
3118 Mill Gap Road, Monterey
Friday: 3 – 6 pm  •  Saturday: 9 am – 5 pm  •  Sunday: 12 – 5 pm
Bring the entire family to pick a pumpkin in the pumpkin patch, view fly fishing demonstrations, taste smoked cheeses and tour the sugar camp.  On Saturday, enjoy making apple butter and pressing cider!
Laurel Fork Sapsuckers
10677 Mountain Turnpike (Clay Hise Lane)
Saturday: 9 am – 4:30 pm
Tucked away in the western part of Virginia and Highland County, high in the Appalachian Mountains, you will find this family farm and sugar camp, making delicious maple syrup, maple vinegar, apple butter and ramp salt.  This 600 acre mountain farm was purchased in 1957 and has provided shelter, heat, food and decades of outdoor fun and recreation for three, four and now five generations.  On Saturday, the farm and sugar camp will be open for tours.  Don't miss your opportunity to get your passport started for the Virginia Maple Syrup Trail!  Pick up some delicious Virginia Maple Syrup and Apple Butter for your holiday baking and gifts.  Can't make it to the farm? Visit their website, and they can ship directly to you!
Mill Gap Farms
2760 Mill Gap Road
Friday: 3 – 6 pm  •  Saturday: 9 am – 5 pm  •  Sunday: 12 – 5 pm
Welcome to Virginia's first & only Organic Maple Syrup Producer.  They also raise alpacas, sheep, and chickens – come hang out with these farm friends!  Enjoy a stay in one of their b&b's, too.  Alpaca and wool products, including winter wear, will be for sale.
Southernmost Maple
7738 Big Valley Road in Bolar
Friday and Saturday: 8 am – 6 pm 
Southernmost Maple is a family owned and operated business located in Highland County.  They make and sell Pure Maple Syrup, BBQ Sauce and a variety of other products.  Spend a day on the farm on Friday and Saturday, where you can enjoy hot fresh maple donuts, fish in the free trout pond for kids, view apple butter and cider making, enjoy Puff's Maple Pit-Cooked BBQ and Sausage, browse vendors and a flea market, and shop for Amish cheese and butter, maple products, pumpkins, mums, apples and more!  On Saturday starting at noon, listen to free Blue Grass Music!
Sugar Tree Country Store
185 Mansion House Road in McDowell
Friday and Saturday: 9 am – 5 pm 
An unique old country store nestled in the small town of McDowell, featuring their own maple syrup and apple butter, along with a variety of other locally crafted merchandise.  On Saturday, they will be making tasty apple butter and pressing cider.  Come visit and see the process!  Can't make it?  They also offer shipping products!
Tonoloway Farm
9943 Highland Tpke. in McDowell
Friday, Saturday and Sunday: 9 am – 5 pm
Virginia's first and only commercial producer of black walnut syrup, also featuring wood-fired maple syrup and rich smoky hickory syrup.  Visit them in person for tours, tastings and scenic hikes during the entire weekend.  COVID precautions apply.
Shopping, Lodging and Drinks
Big Fish Cider
59 Spruce Street in Monterey
Friday: 4 – 7 pm  •  Saturday: 12 – 7 pm  •  Sunday: 1 – 5 pm 
Big Fish Cider, Co. is an award winning small artisanal cidery located in Monterey, Virginia. Their specialty is dry and semi dry heritage ciders made with local low input apple trees.
The Farm House at Lucky Loop Hollow Farm
6467 Mill Gap Road
The Farm House is a turn of the century home located on a 360 acre working farm, just 11 miles from Monterey on Route 84 in beautiful Mill Gap. Guests enjoy panoramic views from two porches, walking trails, farm life, and beautiful night skies. Bird and wildlife watching, fishing, photography and plein air painting are some favorite activities. The Farm House has five bedrooms and sleeps 12, the first floor bedroom has a queen bed and attached half bath. Four bedrooms are located on the second floor; a queen bed, a double bed, one large room with a double and 2 twins, and a room with 2 twins. Two full baths are located on the second floor.
Highland Farmers' Market
The Highland Center Outside Front Lawn at 61 Highland Center Drive off of Spruce Street in Monterey
Friday: 3:30 – 6 pm
Get your local fresh produce, goodies and more at the last Highland Farmers' Market of the year! Learn more at https://thehighlandcenter.org/our-programs/local-food-agriculture/farmers-market/.
Little Big Dog Rescue
128 Main Street in Monterey at "The Attic"
Saturday: 10 am – 4 pm
Join Little Big Dog Rescue for a dog sweater and coat sale.  Little Big Dog Rescue is a 501c3 non-profit rescue that is committed to:
1) senior dogs whose owners have gone into nursing homes or passed away;
2) dogs who are living a lonely life on the end of a chain; and
3) dogs who are treated as cash machines, inventory, and merchandise.
Need to know more about Highland County?  Check out the blog, "Highland County VA", a new privately-owned blog devoted to Highland County's community, history, attractions, beauty and blessings.  Visit https://highlandcountyva.blog/ to discover something new today!