No matter the season, the Highland County community features events that are fun for all ages.  From the arts to food to the outdoors, you'll find many ways to elevate your travel experience.
The Highland County Chamber of Commerce sponsors the annual fall Hands & Harvest Festival, annual Wintertide, and annual Highland County Maple Festival.
Check out the closest future events to the right, or click the green "View All Events" button for a full community calendar. Below, you'll find a list of major community events with descriptions and links for further exploration.
Looking for more dates of programs, meetings, and events sponsored by local churches, schools, civic groups, and non profits?  Check out The Highland Center's Community Calendar at www.thehighlandcenter.org/calendar.
*** NOTICE *** Please keep in mind that each organization is solely responsible for their events.  Plans can change rapidly, so please check with the organizations beforehand to confirm plans.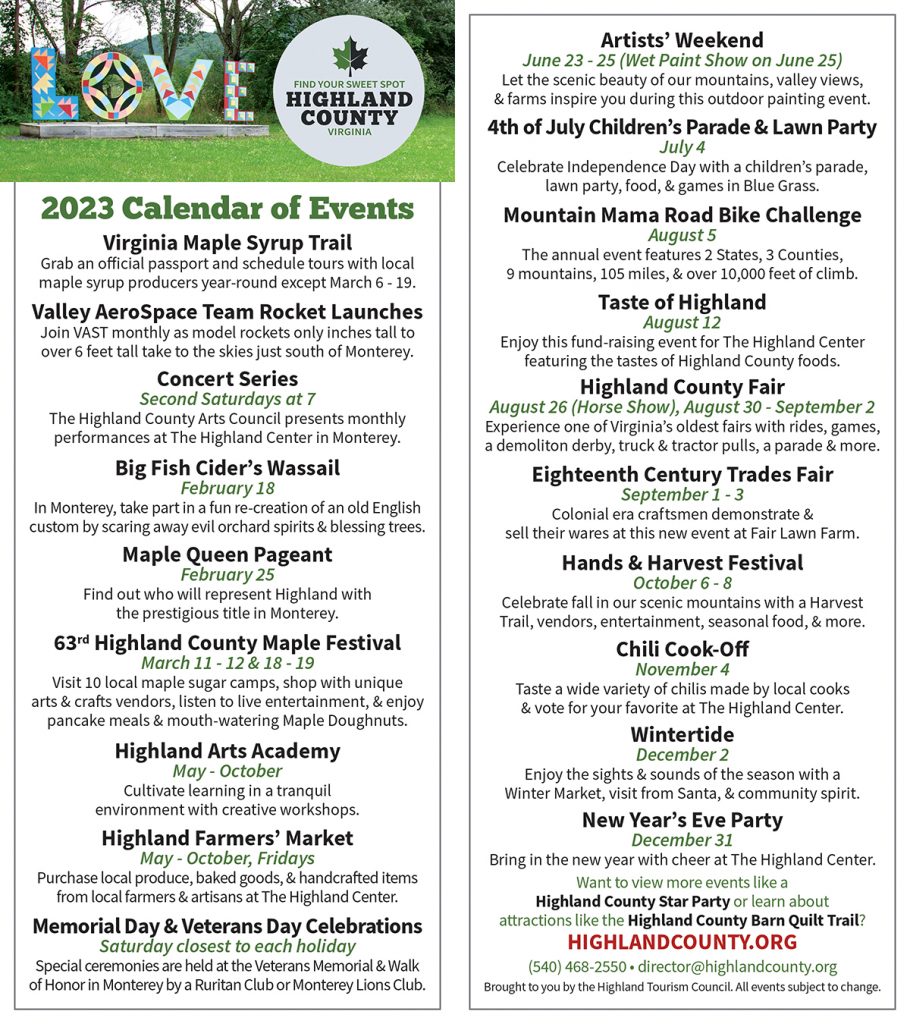 Need a quick glance of major 2023 events in an easy-to-print format?
Click here or the image above for the 2023 Calendar of Events Rack Card.
You can also request your own physical copy at our brochure page by clicking here.
Rack card brought to you thanks to the Highland Tourism Council.
Big Fish Cider's Wassail
This annual fun re-creation of an old English custom typically takes place in February in Monterey at Big Fish Cider and includes scaring away evil orchard spirits and blessing the apple trees for the upcoming harvest. *Sold out for 2023
February 18, 2023

Highland Farmers' Market
Every Friday from May to early October, come on to The Highland Center pavilion in Monterey to purchase local produce, baked goods and handcrafted items from local farmers and artisans.
Fridays, starting May - October
Website
Highland Arts Academy
Cultivate learning in a tranquil environment with creative workshops.
May - October
Website
Artist's Weekend
Let the scenic beauty of our mountains, valley views and farms inspire you during this three-day outdoor painting event, typically held in late June.  Artists from all around come to capture Highland County scenes on canvas, capped off by a Wet Paint Show where you can browse and purchase the created artwork.
June 23 - 25, 2023
(Wet Paint Show on June 25)
4th of July Children's Parade and Lawn Party
Celebrate Independence Day with one of the smallest parades in the USA!  It may be small, but its full of fun and excitement.  Held at the Blue Grass Ruritan Building, you can enjoy the parade, lawn party, food and games during the annual summer celebration.
July 4, 2023
Mountain Mama Road Bike Challenge
Sponsored by the Highland County Recreation Commission, this annual summer event is a cyclist's dream, featuring 2 states, 3 counties, 9 mountains, 105 miles, and over 10,000 feet of climb.  This challenge features 5 course of different ability levels in the clean mountain air.
August 5, 2023
Website
Taste of Highland
You have a place at the table for a community meal celebrating the food, drink and culture of Highland County, held annually at The Highland Center in the summer.  Try all the delicious dishes prepared by local culinary talent.
August 12, 2023
Website
Highland County Fair
There's no shortage of family fun and excitement at one of Virginia's oldest fairs.  Traditionally held over Labor Day weekend, the multi-day fair features a kickoff horse show, parade, carnival rides, games, demolition derby, truck and tractor pulls, live entertainment and so much more.
August 26 (Horse Show)
August 30 - September 2, 2023
Website
Eighteenth Century Trades Fair
Colonial era craftsmen demonstrate and sell their wares at this event at Fair Lawn Farm south of Monterey.
September 1 - 3, 2023
Website
Highland County Star Party
Observe Highland County's dark night sky with even greater clarity at these educational and inspiring events. Knowledgeable local astronomers bring powerful telescopes to share views of stars, constellations, planets, and nebulae.
September 16, 2023 *
October 14, 2023 *
* Weather depending
Website