The Highland Tourism Council works closely with the Highland County Chamber of Commerce on the goals and objectives set out in the Tourism Strategic Plan that was adopted by the Board of Supervisors in 2014. They advise on all marketing initiatives and funds allocated through the Transient Occupancy Tax from Highland County and Town of Monterey lodging facilities.
The five-member Council is a subcommittee of the Economic Development Authority of Highland County.  It is made up of five volunteers who represent various tourism interests in the county and consists of a member of the EDA or their designee, a member of the Chamber of Commerce Board, a representative of the lodging businesses, and two members at large who represent tourism interests of the county.
The mission of the Council, as outlined in the Tourism Strategic Plan, is to stimulate targeted tourism initiatives that will promote economic development and population growth in Highland County while protecting and enriching the quality of life for its residents.
Chris Swecker, Executive Director of the Highland Chamber of Commerce, also serves as Executive Director of the Tourism Council.
The 2021 Council members include:
Marty Leech – Chair (Chamber of Commerce Board Member)
Patti Reum – Secretary (Lodging Representative)
Deborah Ellington – Treasurer (Lodging Representative)
Christoph Herby – Tourism Council Member
Bryan Obaugh – EDA Member Representative
The Highland Tourism Council typically meets on the second Monday of each month at The Highland Center at 5:00 pm - during COVID-19, the Council is meeting via Zoom until further notice.  Please contact director@highlandcounty.org or call 540-468-2550 for the meeting information.  Any member of the public who is interested in finding out more about the Council is welcome and encouraged to attend these monthly meetings.
Marketing Assistance Program
The Highland Tourism Council has designed the Highland Tourism Marketing Assistance Program to stimulate new tourism initiatives or assist in the growth of existing programs or events through the creation of tourism partnerships. The objective of this program is to leverage the limited marketing dollars obtained through the Transient Occupancy Tax, resulting in increased visitor spending, revenue, and jobs within the county.  The 2020 Marketing Assistance Program Application is available to view, print and download by clicking on the link below!  Applications will be accepted through the second Friday in January of 2021 (January 8th).
2020 Marketing Assistance Program Application
Need help with writing grants?  Check out free SCORE counseling at https://www.score.org/.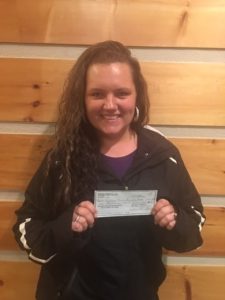 Jessy Wilfong, HCRC Director, accepting the 2019 grant award
December 12, 2019 Online Marketing Workshop
The Highland County Tourism Council partnered with Virginia Community Capital to present a free workshop focused on helping small businesses learn about resources, opportunities, technology and more to promote their business in this century on December 12, 2019 at The Highland Center.  Thank you to all who attended!
The event was live-streamed on Facebook.  In case you missed it or want to watch it again, you can view the full presentation at: https://www.facebook.com/HighlandCounty/videos/448418596082389/
In addition, you can view and download a pdf file of the full PowerPoint presentation here: VCC Online Marketing Presentation B&W
More resources: